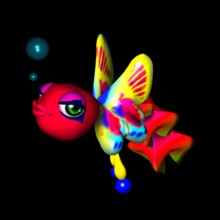 Parties are fish-like third level Nightmarens. They can be found in Splash Garden, Mystic Forest and Soft Museum. If NiGHTS comes close to them, they will attack him with their tails.
Appearance
Party is a red fish-like nightmaren with big lips, it's eyes are green and it's eyelashes are dark blue, It has yellow fins which look like butterfly wings with red, blue, pink, cyan and white spots and a deformed red tail with green spots.
Trivia
Party was likely inspired by Tropical fishes.