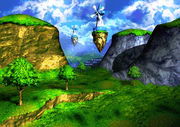 Nightopia is a place in the Night Dimension where the Ideyas of Visitors create fantastic worlds known as Dreams, that reflect the Visitor's heart.
In NiGHTS into Dreams, Elliot Edwards and Claris Sinclair are the two teenagers who explore Nightopia through their Dreams with NiGHTS. There are seven dreams in total; Spring Valley, Splash Garden, Mystic Forest, Frozen Bell, Soft Museum, Stick Canyon, and a shared dream of Twin Seeds City.
In NiGHTS: Journey of Dreams, William Taylor and Helen Cartwright can access three separate worlds; or Dreams, each created by their Ideyas including one shared dream. Much like NiGHTS into Dreams; there are seven dreams in total: Aqua Garden, Pure Valley, Crystal Castle, Lost Park, Memory Forest, Delight City, and the shared dream of the city Bellbridge.
Trivia
The word "nightopia" derives from both "night" and "utopia".
Community content is available under
CC-BY-SA
unless otherwise noted.