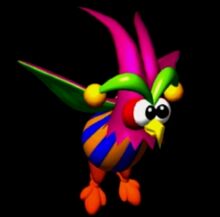 Hollows are own-like Nightmarens. They can be found in Spring Valley and Splash Garden in NiGHTS into Dreams. If NiGHTS comes close to them, they will shoot a small orb at him.
Triva
Their eyebrows seems to resemble a clown hat.
Jackle used a Hollow to create a Mepian in the NiGHTS Archie comics.